Give yourself a break.
The new art of napping.
Eclipse
An invitation to rest, not to sleep. A break in the day, a pause or a power nap, with multiple benefits.
Often, a mere 15 minutes in a day is what is needed to refresh, to compensate for lost sleep, to minimize stress, and/or to improve one's ability to focus and retain information.
Seamless, comfortable, beautiful (esthetically pleasing), customizable…Swiss Made
A space to revitalize both the body and the mind (soul, spirit).

A nap is a highlight of life which should be defended, popularized and practiced with conviction, pleasure and ardour.
Thierry Paquot, L'Art de la sieste

38% of the Swiss population has insomnia or difficulty sleeping.
It is time to change the way we look at and think about our relationship with sleep—to give it a (small) place in order to better integrate it into the workplace. It is time to make sleep our ally.
A nap not only resets our internal clock, but also contributes to improving our cognitive and physical performance, increasing our attention span, reducing emotional ups and downs, curbing excesses of stress and fatigue, etc.
A short nap (or power nap) of 10 to 20 minutes is a simple and effective strategy to recover strength, improve attention and pursue afternoon activities feeling awake and refreshed--an opportunity to "restart" the day.
It is possible for a short nap to help one recover from a sleep deficit, reduce stress levels, improve personal performance and decision-making skills, etc. It is also worth noting that a nap represents an effective method of combatting the pressure created by looming deadlines.
Quality, durability and responsibility.
High-quality materials and a soft, rounded shape. A cocoon. A mere moment in time.


A product manufactured in Switzerland in the Girsberger workshops, guarantors of "meticulous manufacturing combined with traditional craftsmanship."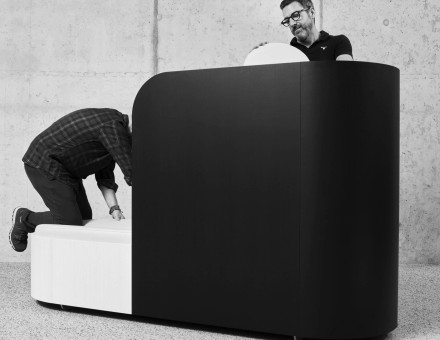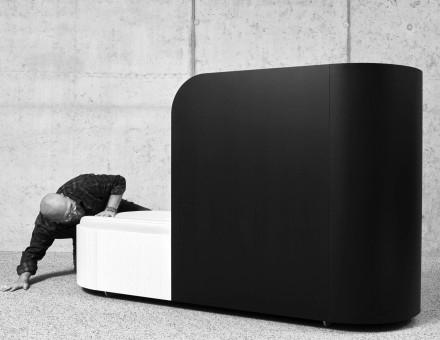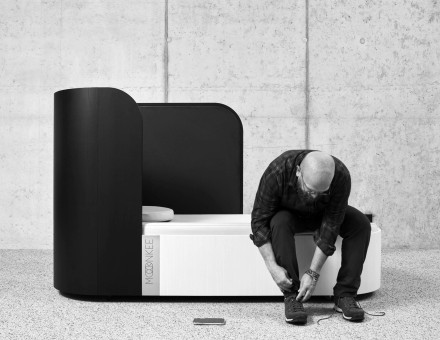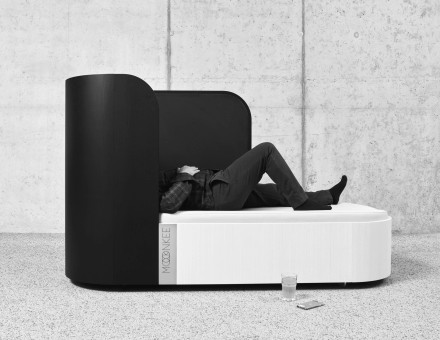 About

Designer and interior architect Oliver Kamm has conceived an object that navigates the boundaries of art and reality, a space that is an invitation to retreat from the world and at the same time an elegant contribution to the surrounding décor.

Fabien Mock is a health professional who has worked in hospitals, in education, in the home and in companies as a coach. He is concerned about the chronic lack of sleep that humans experience on a daily basis.
Consulting
Our office is available to answer any questions you may have regarding sleep management in the workplace—how it affects us on a daily basis and why it is worth pursuing.
Presse
If you are an individual or a company, if you need additional information or high-resolution images:
Press release